Too Many Animals, Too Much Manure
MIAMI - Imagine 600,000 hens confined in seven sheds -- with a total of four workers to care for them and cages so dilapidated that birds often became entangled in frayed wires and died horribly.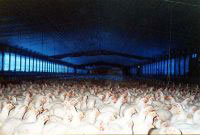 Factory farms like this "broiler" operation confine thousands of animals in one place.
That was the situation at one massive egg farm in the U.S. state of Pennsylvania in 2005, and while it may represent a worst case scenario of factory farming, critics say the treatment of animals is just one of a wide array of health and environmental problems plaguing the industry.

Industrial-scale farming took off after the Second World War, and especially during the 1950s, due to advances in the use of synthetic hormones and antibiotics, which make animals bigger and infer greater immunity to disease under crowded conditions.

Proponents say these massive farms are more efficient and have lowered the cost of meat, dairy and eggs for a growing number of consumers.

But there is also clear evidence that factory farms have contributed to international crises ranging from the bird flu outbreak to global warming.

In Laos, 42 of the 45 outbreaks of avian flu in the spring of 2004 occurred on factory farms.

The U.N. Food and Agriculture Organisation reports that livestock operations now generate 18 percent of global greenhouse gas emissions (as measured in carbon dioxide equivalent). The problem is not just methane and manure, but also land-use changes, and the use of energy to produce fertilisers, run the slaughterhouses and meat-processing plants, and pump water.
Source: IPS