Yorkshire Agricultural Society slam Royal Show Date Change
YORKSHIRE - The Yorkshire Agricultural Society, (YAS) organiser of Great Yorkshire Show, is extremely disappointed to learn that the Royal Show is to move its dates forward which will inevitably mean that many exhibitors will not be able to attend both events.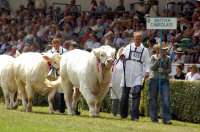 British Charlois
The decision by The Royal Agricultural Society of England (RASE) to change from a Sunday to Wednesday event, to a Thursday through to Sunday show, leaves a margin of only one day between the two farming events. Currently, many exhibitors, both trade and livestock, and contractors attend both shows. The YAS has described it as divisive to the industry, saying it will have a major negative impact on farmers.

Dates for the 2008 Great Yorkshire Show, which is held at Harrogate, will remain as Tuesday 8 - Thursday 10 July and it will be the 150th show. The Great Yorkshire is a leading farming showcase attracting entries and support from across the UK and beyond.

Last week, RASE told organisers of the Great Yorkshire of their intention to change their dates. The decision was confirmed in a telephone call from a senior RASE executive to the Great Yorkshire's Show Director, Bill Cowling late yesterday afternoon (Monday 6 August).

Mr Cowling said: "We were very disappointed to be told by the organisers of the Royal Show that in order to boost their public visitor numbers they wish to have an extra weekend day and are thus moving their dates forward. The Royal describes itself as 'the most prestigious agricultural event of the year' but it seems to us that they are willing to sacrifice agricultural content for the potential financial gain of greater public attendance with the extra weekend day."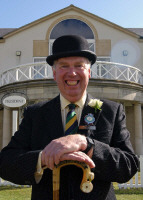 Bill Cowling
"Leaving only one day between the end of the Royal and the first day of the Great Yorkshire makes it impractical for many exhibitors to attend both, whether showing livestock, as trade stand exhibitors or indeed as contractors. At present exhibitors have a choice, including attending both events if they wish. This takes away that choice, and halves their opportunity to promote themselves and do business," he added.

"RASE has suggested that they may look at allowing livestock to leave their show early so that they could also be shown at Harrogate. This is simply not an option for exhibitors. It isn't logistically practical or advisable to show stock with less than a day's rest between two events, particularly as several hours of travelling are involved between the two venues. Farmers would not wish to do this, and nor should they, thus the Royal has put them in a position of having to choose. "

The national show calendar is carefully worked out to ensure clashes are kept to a minimum so exhibitors have the widest choice possible, and it has always worked very well.

Mr Cowling continued: "We celebrate our 150th show next year and have built our reputation around the strong farming content (72% of the show is devoted to agriculture), the quality and quantity of our livestock and trade stands, our prize money and the high standard of our showground. We had record entries last year, and despite horrendous wet weather, our £15m investment in the site over the last decade enabled us to stage another very successful show last month. We had an excellent attendance figure of 122,042, only slightly down on the previous year's all time record of 135,111.

We are very confident that the Great Yorkshire Show will maintain its appeal to the industry and to the public, and see the Royal's decision as divisive and damaging to the industry."