Aviagen Holds Inaugural L.I.R. Association Meeting
HANOI - Aviagen, the world's leading poultry breeding company, recently held the inaugural L.I.R. Association meeting in Hanoi, Vietnam. This meeting brought together Aviagen's major L.I.R. distributors and customers from around the world, providing them with a platform to share information and experiences and, most importantly, to develop strategies to successfully promote the growth of the L.I.R. brand globally.
Building on the very successful events held with distributors across Aviagen's global brand network, delegates spent two days listening to presentations, networking, building relationships and swapping information. Topics discussed included updates on world poultry markets, Aviagen's R & D programmes and L.I.R. product development, biosecurity, biofuels and strategic technical and marketing support.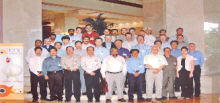 The event was very well attended with all Aviagen's L.I.R. distributors being represented. In addition to the technical and market briefings the important role distributors have in the future of the L.I.R. brand was also discussed. Each distributor also introduced their company and highlighted their local issues.

Bob Dobbie, Aviagen's President of International Business, said:

"The establishment of the L.I.R. Association is another demonstration of Aviagen's commitment to the brand. The L.I.R. product is very well suited to the Asian and Middle East markets due to its outstanding performance in local conditions. For the L.I.R. brand to become even more successful, it is vital that we work closely with our current distributors to highlight the excellent performance of the L.I.R. product. We hope to grow the distributor network and plan to hold similar events every 18 months."

Eugenio Rojas, L.I.R. Operations Director commented:

"I was delighted to welcome so many of our L.I.R. distributors. The feedback we received from delegates was that the event was very useful to them giving them lots of new information about the L.I.R. brand and having the opportunity to meet with key people from different disciplines within Aviagen. I'd like to thank all our customers and the Aviagen staff who made the event so worthwhile."

Dr Teghu Prajitno of PT Multibreeder Adirama said:

"For me, the chance to share the latest information on L.I.R. genetic progress and marketing data and Aviagen's commitment to provide support on technical, veterinary and R&D issues was the most important reason for attending. It is impressive to see how the L.I.R brand has developed and established itself here in Asia and we are determined to continue this and take the challenge to grow our company with good genetic material. I would like to express my sincere thanks to the colleagues from Aviagen for organising this event, bravo L.I.R!"