China's Artificial Foods Spotlighted in Korea
CHINA - Recently, China's artificial products have been under the spotlight in Korea. Several mainstream Korean media have reported on the process of making artificial eggs in China, which has stirred up panic and caused great concern among Koreans.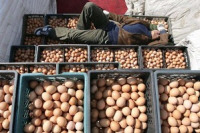 A worker sleeps on crates of eggs at a poultry and egg wholesale market in Beijing, China.
On September 1 and 2, the Munhwa Broadcasting Corporation (MBC) did a documentary titled "Life without products made in China." The show followed the daily lives of three families in South Korea, the US, and Japan who refused to use products made in China. It also talked about rampant artificial eggs products in Chinese markets, catching the interest of the Korean public.

Following the show, Korea's number one newspaper Chosun Ilbo, published an article titled "MBC Special exposes artificial eggs made in China," reporting in detail how the artificial eggs were made.

The Dong-A Ilbo, another Korean newspaper, also published a report titled "Artificial eggs from China made of chemicals appear on the market" on August 14, 2007.
On-Tenth the Cost
According to the report from The Chosun Ilbo, due to the sharp increase in food prices in China, artificial eggs, made only from chemicals with no natural ingredients have appeared in Zhengzhou City, Henan Province.
Mr. Wang, who runs a company that makes food additives, described how artificial eggs were made. "The 'egg white' is made by dissolving sodium alginate in water. It appears to be a transparent viscous liquid and it's hard to distinguish it from real egg white.
"The 'egg yolk' is made by scooping up a liquid with yellow pigment and solidifying the scoop of liquid in a calcium chloride solution. In the end, the 'egg white' and 'egg yolks' are sealed into 'egg shells' made of calcium carbonate.
Source: TheEpochTimes