Company Defends Smelly Facility
TALMO - The big poultry waste and grease fire at Agri-Cycle, a waste recycling plant near Talmo, GA, in Jackson County, was 100 percent extinguished early Thursday afternoon, according to Jackson County Fire Department Captain Jody Woodall.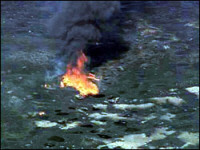 Fire broke out at a controversial recycling plant in Talmo.
Woodall said firefighters used a foam solution called "cold fire" to smother the blaze. They were remaining on the scene to make sure there were no flare ups.

The fire broke out Wednesday afternoon in a lagoon used to recycle liquid chicken waste and grease.

Glenn Allen of the State Fire Marshal's office told 11Alive News that the fire was caused by an accidental electrical short in a pump system that is used to aerate the liquid waste in the lagoon.

Kevin Chambers of the Georgia Environmental Protection Division confirmed that on August 21, EPD ordered Agri-Cycle to shut down because it was polluting Allen Creek, and was taking in unauthorized human septic-tank waste, among the several reasons cited in the eight-page order.

Agri-Cycle is disputing the EPD findings by appealing the EPD order to shut down. The company is allowed to remain open and in business during the appeal.
Source: 11Alive