Distributor Found Selling Chicken Wings In Dangerous Way
PHILADELPHIA -- At first glance, what the NBC 10 Investigators' hidden camera saw didn't come close to what the crew smelled.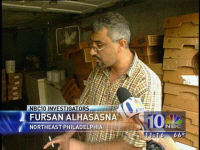 NBC exposes the business
"It hits you," said a poultry deliveryman who helped blow the whistle on the chicken wing operation. "Something's bad."

It wasn't a chicken processing plant. It was a garage behind a Philadelphia row home.

Inside, a barefoot worker could be seen cutting wings that might have been served up at your favorite restaurant.

It was hot. Flies were everywhere. NBC 10's cameras spotted chicken dropped in the water on a sloppy floor. At one point, the wing was picked up and tossed back in the pile.

"He's got blood in that water, plus the ice, and it's just bacteria," the deliveryman said.

They were chopped down into Buffalo wings, party wings, wingettes and the distributor resold them for a profit. Where? Maybe your neighborhood pizzeria, NBC 10's Lu Ann Cahn reported.

And there's more.

"He's endangering people lives," said the deliveryman, explaining why he came forward.

"It's horrible," said Drexel University food preparation expert Philip Handel, who said camera crews were looking at the perfect recipe for salmonella -- enough to make plenty of people sick to their stomach.
Source: NBC10