Egg Rations Fear As Prices Soar
UK - Eggs could be rationed for the first time since World War II because of soaring wheat prices.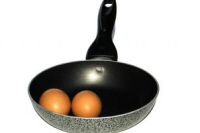 Egg supply is running short
And millions of British families face a Christmas without the traditional turkey, producers have warned.

Many farmers are producing fewer eggs because bird feed prices have rocketed by 60 per cent this year.

Producers want to be paid a third more for their eggs - which could mean £3 for half a dozen large, free-range in the shops.

But Finn Cottle, marketing manager of egg producers Noble Foods, said many farmers had decided to produce fewer eggs already because they can't afford to feed their birds.

Warning of rationing, he said: "It could be the first time since the war that we are restricted in supply."
Source: DailyRecord.co.uk
Further Reading