Extending Poultry Farming To Rural Areas
PAKISTAN - The poultry industry has made considerable contribution to food production and plays a vital role in the domestic economy. It has proved to be a profitable business and is a good source of cheap, palatable and nutri tious food protein. Modern poultry farming started in 1963. Earlier, the birds were mostly maintained in the backyard of village houses on large scale, with very little investment by villagers. The return on the birds was too little.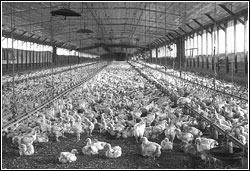 The commercial production of poultry is initially concentrated around large urban centres in Sindh and Punjab, and now is well spread all over the country.

Poultry produced is being developed through two management systems i.e. commercial farming and rural poultry farming. The commercial poultry farming sector is a classic example of private sector enterprise with a phenomenal growth of 40 to 50 per cent per annum. This rapid growth was achieved because of the incentives provided by the government from time to time, like liberal financing and credit, income tax exemption, duty-free import of grand parent and parent flocks, machinery and poultry farm equipment, in addition to liberal and easy loan facilities from commercial banks and financial institutions.

The large-scale investment and proper incentives have resulted in the establishment of infrastructure com prising 285 hatcheries with a capacity to produce 600 million day-old chicks per annum, 141 feed mills with a capacity of producing 4.7 million tons of compound food per annum and 19,154 poultry farms with the capacity of producing 100 million broilers.

The present poultry population is estimated at 319 million, out of which 137 million belongs to the rural areas (44 per cent), 160 million broilers (50 per cent), 17 million layers (five per cent) and five million (two per cent) breeding stock annually. These figures speak of the potential to increase production of eggs and poultry meat.
Source: DAWN