Free Range And Organic Outstrip Caged
UK - Organic food and drink sales in the UK nudged the £2 billion mark for the first time in 2006, with a sustained market growth rate of 22 per cent throughout the year.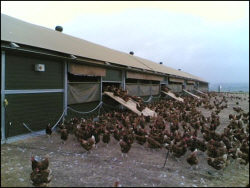 Organic farming comes into the light
Launched to coincide with the start of Soil Association Organic Fortnight 2007, the Soil Association's definitive annual Organic Market Report shows continued strong growth and dynamic public support for organic food, drink, textiles and health and beauty products.

Retail sales of organic products through organic box and mail order schemes and other direct routes increased from £95 million in 2005 to £146 million in 2006 - a staggering 53 per cent growth, more than double that experienced by the major supermarkets.

Key figures from the report reveal:
Sales of free-range and organic outstripping eggs from caged birds for the first time. Consumer concerns over animal welfare appear to be driving changes in the poultry sector.
An average of £37 million is spent each week on organic produce in the UK with consumers living in London, the Southeast, the Southwest and Wales most likely to buy organic food.
Households with children under the age of 15 tend to buy a wider range of organic foods than those with no children.
Organic farmers are three times as likely to market their products locally or directly as non-organic farmers in the UK.
Despite the steady growth in demand for organic food over the past decade, some key sectors are still failing to meet demand. Organic livestock sectors are dependent on supplies of organic feed, but UK self-sufficiency in organic cereals fell below 50 per cent, during 2006, increasing our reliance on imported organic grains. The cost of livestock feed, whether for organic or non organic farmers, is rising as a result of recent poor global harvests, increasing diversion of cereals into biofuel production and rapidly rising demand particularly from China and India.

Helen Browning, Soil Association Director of Food and Farming said: "These figures are extremely encouraging, the year on year growth in sales not just in food and drink, but also the newer booming clothing and health and beauty sectors confirm organic has moved well beyond a mere fad or niche.

"The staggering 53 per cent growth in sales through box schemes and other direct routes confirms strong public support for local, seasonal and organic food that provides a fair return to farmers and growers, boosts the local economy, and also reduces your carbon footprint – consumers are increasingly linking everyday food choice to environmental action.

"While this year's report confirms a positive future for organic food and farming, the organic movement faces challenges in the long-term from climate change and rising oil prices, as do all farmers and growers. Rises in feed and fuel prices will need to be reflected in food prices at the check-out that enable farmers to get a fair return on their production costs. It's fantastic to have such strong public support for and understanding of the benefits provided by organic farming, but that must urgently extend to more widespread acceptance, by retailers as well as consumers, of the true costs of producing staple foods like eggs, milk, meat , and bread sustainably.

"The significant short-fall in UK grown organic cereals is a major concern, forcing greater reliance on imports for livestock feed - but of course, it is also a major opportunity for current non-organic cereal farmers to convert and supply a guaranteed and growing market.

"With the government's own studies confirming that organic farming typically uses 30 per cent less energy than non-organic farming, it's not surprising more and more people are choosing to purchase planet-friendly, organic food. This is confirmed by an independent poll commissioned by the Soil Association from Mumsnet, which found that 84 per cent of mums believe that organic is better for their family and 90 per cent for the planet. We'll be using that endorsement from the nation's mums to get Gordon Brown to wake up to the planet-friendly benefits of organic food and farming."