Govt May Import Chicken To Address Short Supply
MALAYSIA - The Government will import chicken from neighbouring countries if poultry supply shortage continues, Agriculture and Agro-based Industry Minister Tan Sri Muhyiddin Yassin said today.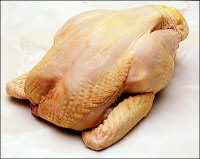 He said the government was left with no option than to bring in imported chicken to address the short supply if poultry farmers could not provide adequate supply to meet the higher demand for the approaching festive season.

He said the Veterinary Services Department was monitoring poultry farms nationwide to ensure undisrupted chicken supply to consumers.

"If supply drops by 10 per cent in the market, it will affect consumers in many places. If such a situation arises, we will invoke our contingency plan to ease the situation," he told reporters when asked to comment on the government's remedial measures if chicken short supply persisted.
Source: Bernama