Large Corn Crop on Track, Pressure Building Elsewhere
WASHINGTON, D.C. - The latest yield projections by the Agriculture Department show U.S. farmers remain on target to harvest a large corn crop in spite of drought in some portions of the Corn Belt, according to the American Farm Bureau Federation.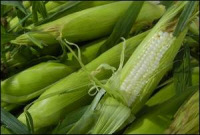 The USDA's National Agricultural Statistics Service today raised its estimated national average corn yield by three bushels per acre to 155.8 bushels per acre, which is on the high side of analysts' pre-report estimates. The corn prediction of 13.3 billion total bushels is 254 million bushels more than last month's forecast due to the higher yield projection.

"The corn crop was further along and better able to withstand the hot and dry weather in August in the southern half of the Corn Belt and the Southeast than soybeans," said Terry Francl, AFBF senior economist. "Consequently, farmers are now embarking on the challenge of harvesting and storing a record-breaking corn crop."

In addition, Francl said farmers and industry partners have done a good job increasing their storage capacity to keep pace with the large corn harvest that has been expected for months. He cautioned, however, that with a corn crop this large, some temporary storage and logistical problems will occur this fall.

Wheat
While NASS did not release a survey of U.S. wheat yields, it is clear that pressure remains on wheat. Drought conditions in Argentina and Australia, in particular, are contributing to low wheat stocks.

"The U.S. is the only place that has any significant supplies of wheat at this time," Francl said. "World wheat supply and demand conditions are likely to remain extremely tight until the next crop in the northern hemisphere is harvested in 2008. Therefore, wheat prices may remain at stratospheric heights and eventually trade up to $10 per bushel on the futures market."

Soybeans
"This also brings up the question in the minds of many observers whether soybean yields will be reduced further in subsequent monthly reports," Francl said. Although supplies of soybeans are ample – with 555 million bushels – at the start of the current 2007 and 2008 crop year, demand is expected to exceed available supplies by 340 million bushels, leaving U.S. carryover supplies at a very low 215 million bushels, he noted.

"Given the low wheat and soybean carryover stock projections for 2007 and into 2008, there will be another bidding war for crop acreage this fall, with respect to winter wheat acreage, and into the spring in terms of acreage for beans, cotton and other crops," Francl said. "Even though corn carryover stocks appear comfortable, corn prices are going to be caught in the bidding war that will focus on expanding wheat and soybean planted acres in 2008."

Wheat "leads the pack," followed by soybeans and soybean oil, Francl said, as supplies of those commodities are tight as well. The national soybean yield estimate was reduced by one-tenth of a bushel per acre. Francl said he also anticipates beans trading around $10 to $11 per bushel by early next year.

Cotton
In addition, Francl said the average cotton yield projection was increased as expected. The projection was raised to the high side of the pre-report estimates, up 29 pounds to 811 pounds per acre.

Livestock
In the livestock sector, beef production in 2007 is projected to decrease by 149 million pounds, the equivalent of more than 180,000 head. AFBF Livestock Economist Jim Sartwelle attributes this drop largely to supply effects of previous droughts.

"Large swaths of the Great Plains and West have endured drought-induced cow-herd liquidations on a large scale in the past few years," he said. "Over time, fewer calves are born, which means fewer cattle are available to be placed on feed and eventually enter the food supply.

"In response to higher feed costs, cattle feeders have preferred to place heavier calves on feed to minimize the amount of feed consumed, and finished weights have run lighter than in 2006 for most of the year," Sartwelle said.

Sartwelle went on to point out that tens of thousands of cows in the Southeast have gone to market early due to dry conditions in 2007, a fact that should help restrict cattle supplies for the next few years and support prices.

USDA's latest report projected prices for many classes of livestock and milk products for 2007 and 2008. The department expects overall prices to exceed 2006 levels across the board through 2008. While the general price levels dangle the prospect of increased cash receipts for the nation's livestock operators for the foreseeable future, Sartwelle warns against correlating high prices with high profits at the farm and ranch gate.

"Expenses have risen steadily during the past several years," Sartwelle said. "USDA recently estimated an 8.5 percent increase in total cash farm expenses just since 2006. Livestock and crop producers, unfortunately, see commodity prices that rise and fall but face expenses that seem to increase annually with little relief."