Livestock Breeds Extinction Threat: How Prepared Is Tanzania?
TANZANIA - The recent announcement by the United Nations Food and Agricultural Organisation (FAO) that the world is now facing extinction of indigenous livestock breeds is a warning to countries with huge animal populations such as Tanzania.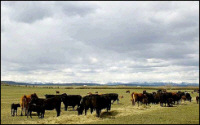 Livestock extinction coming
Actually, the country has the third highest population of livestock in Africa after Sudan and Ethiopia.

A report by the Tanzania Investment Centre titled Tanzania Ultimate in Diversity Report 2005/2006 substantiates this by disclosing that in 2002 the country was estimated to have 17.7 million cattle, 12.5 million goats, 3.5 million sheep, 47 million poultry and 8.8 million pigs.

Most probably with the passage of time these numbers might have increased by far today.

FAO says that all these livestock breeds are now facing extinction due to a number of factors the leading being the increase in temperature on the Earth`s surface (global warming).

In a report; State of the World?s Animal Genetic Resources (2007), FAO reveals that at least one livestock breed has become extinct every month over the past seven years.

According to FAO, this is alarming as it means that the genetic characteristics of the disappeared livestock breed have also been lost forever.

`Around 20 percent of the world`s breeds of cattle, goats, pigs, horses and poultry are currently at risk of extinction,` the report, which is the first global assessment of livestock biodiversity and of capacity of countries to manage their animal genetic resources, reads in part adding:`The options that these resources offer for maintaining and improving animal production will be of enormous significance in the coming decade.
Source: IPPmedia
Further Reading