Low Level Of Salmonella In Catering Eggs
UK - Very few eggs used in restaurants, pubs and cafeterias are contaminated with salmonella, according to a 14 month UK survey commissioned by the Food Standards Agency.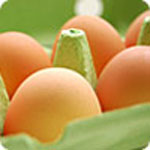 The survey, which was carried out by the Health Protection Agency, and ran from November 2005 to January 2007, analysed over 1,500 samples of six catering egg shells from eight different countries and used in UK catering premises.

Analysis of the egg shells and contents showed a contamination of 0.38% or six samples in total. Five of the six positive samples were from eggs produced in the UK and one from Germany.

Alongside this low level of salmonella contamination, the survey highlighted evidence of poor storage and handling practices in some catering premises. Over half of premises failed to store their eggs under refrigerated conditions and a fifth of egg samples had either expired best before dates, or were in use after three weeks of lay, indicating poor stock rotation. In addition, over a third of premises mixed and pooled eggs for use during the day. While this does raise some questions about how eggs are handled by caterers, it does not pose a threat to our health, so long as they are cooked thoroughly.

Salmonella infection remains an important public health issue and is one of the five key organisms against which the Agency monitors to reduce foodborne disease.

The information gathered in the survey will be used to feed into our best practice advice to catering premises on the storage, handling and use of raw eggs.
Further Reading