Muhyiddin To Villagers: Breed Chicken For Own Consumption
MALAYSIA - Villagers have been urged to breed chicken for personal consumption as commercial breeders may reduce the number of birds due to higher chicken feed cost.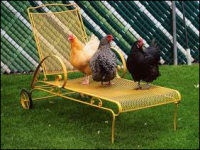 Agriculture and Agro-Based Industries Minister Tan Sri Muhyiddin Yassin said checks on the chicken industry showed the price of chicken feed had increased by about 40%.

Speaking to villagers and mosque committee leaders in Kampung Semasih near Panchor he said the nation's chicken production could be affected if there was a reduction by commercial breeders.

"If this happens, the price of chicken will increase and we urge villagers to adopt the old living style of breeding chickens around the houses.

"They can breed just enough for their own consumption and this way they will not be affected if there is any chicken shortage," he said before presenting Ramadan aid to mosque committee leaders in Pagoh on Thursday.

Source: TheStarOnline