New 'Farm Bill' Would Stop Federal Meat Inspection
WASHINGTON - The American Federation of Government Employees (AFGE) today announced strong opposition to provisions in the House "Farm Bill," H.R.2419 that would end federal meat inspection.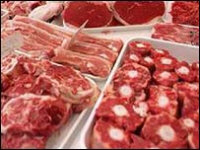 What's in your food.
The bill, which recently passed the House, lowers food safety standards by encouraging meat and poultry producers to forgo rigorous safety enforcement and opt for less stringent state guidelines. The provisions which amend the Federal Meat Inspection Act and the Poultry Products Inspection Act were buried in the Farm Bill due to be taken up by Congress in the next few weeks.

"As Americans are being assaulted by contaminated products and foods such as spinach, this new law could make things worse by trying to lower food safety standards for meat and poultry sold in the U.S.," said John Gage, AFGE president.

The Farm Bill would also remove the current ban on shipping state-inspected meat to other states. This would have a serious impact on consumers if products processed in a particular state are found to have been tainted and must be recalled. "Individual states do not have the full capacity to track recalled meat and poultry in other states. The federal government, on the other hand, has the capability to ensure that contaminated and recalled products would be removed from store shelves," said Gage, whose union represents meat inspectors.

Report after report by the United States Department of Agriculture's Inspector General and from the media clearly states that state inspection programs are more lenient on plant sanitation standards than federal inspectors. The USDA IG, for example, said in a report issued September last year that Mississippi allowed a number of meat processing plants to continue operating despite finding various safety issues, including cutting boards heavily contaminated with meat residues from previous days' operations, soot-like material on swine carcasses in coolers, and the lack of monitoring of cooking temperatures that could potentially expose consumers to bacteria that cause foodborne illnesses.

The United Food and Commercial Workers as well as consumer organizations such as Safe Food Coalition, Consumer Federation of America, National Consumers League, and Center for Foodborne Illness Research & Prevention have joined AFGE in opposition to the bill. "We view this bill to be is a product of massive lobbying efforts by meat producers who are searching for more 'understanding' and 'flexible' enforcement by state inspectors without regards to public health. Lawmakers who support the bill must be held accountable for betraying the public trust," Gage said.

AFGE is the largest federal employee union representing 600,000 workers in the federal government and the government of the District of Columbia.