Poultry Group Warns Against Resolution
US - The Florida Poultry Federation has sent letters to all Florida cities warning them against approving resolutions that advise residents not to purchase eggs from caged chickens.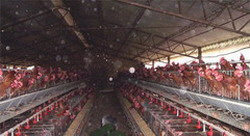 No city in Bay County is considering such an ordinance, but poultry federation executive vice president Charles Smith said Thursday that several across the state have adopted the measure, including New Port Richey in Pasco County and West Palm Beach.

"They contend that rearing birds in cages is inhumane," Smith said.

Smith said the resolutions harm the poultry business. It requires extensive land to raise chickens uncaged, and that amount of land is not available, he said.

About 10 percent of all the eggs produced in Florida come from non-caged chickens, according to Smith, a former state legislator.

Some of the organizations pushing for these resolutions are People for the Ethical Treatment of Animals, or PETA, the Animal League and the Humane Society of the United States.

New Port Richey Councilwoman Marilynn DeChant said the egg resolution passed unanimously in the spring after a representative from the Humane Society spoke to the City Council.

DeChant, who purchases only non-caged eggs from supermarkets, said she voted for the resolution because "it's inhumane keeping them squeezed in a cage."
Source: NewsHerald.com