Poultry On Parade Despite FMD Restrictions
UK - A successful rare breed auction at Harrison & Hetherington's Borderway mart in Carlisle went ahead last Saturday and marked a step in the right direction for farmers hit by the latest movement restrictions.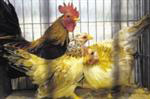 Mellow yellow: These Japanese Seramas were named best in breed
Although there were no sheep or cattle at the auction, turnout was high for the poultry classes.

Livestock movement restrictions were imposed when a new outbreak of Foot and Mouth was confirmed in Surrey last week.

Operations director David Pritchard said: "The outbreaks are a real disaster and they create a feeling of uncertainty.

"That's why sales like this one, and the news that we are going ahead with a slaughter sale and collection point are so welcome.

"The number of people who have come to the poultry auction today to support is the same as you would have expected. And it attracts a mix of people as well – not just farmers.

"There are all sorts of people along, some of them just out of curiosity and some to lend their support."

Exhibitors brought hundreds of birds to the auction, and excited crowds took part in the bidding and watched the results of competitions.

Joan Barry has been judging at the sale for the more than 25 years.

Source: The Cumberland News