Raising Poultry The New-Old Way
US - The idea of pastured chicken - birds that actually run around outside, on grass - conjures a romantic vision of smiling farmers gaily tossing corn to the flock in a pristine green field while baking a cake and reading to the children.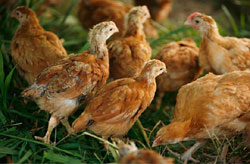 Young Red Broilers at Soul Food Farm in Pleasant Valley near Vacaville will be moved to pasture at 31/2 weeks old.
A visit to Soul Food Farm in Pleasant Valley, just outside Vacaville, bursts that notion like an overripe tomato in the 100-plus degree heat.

Alexis Koefoed, with help from her husband, Eric, and their kids, started her pastured chicken operation here 16 months ago, first selling eggs and, since early this year, helping feed the Bay Area's growing hunger for chicken that's raised the new-old way.

Six months in, the Koefoeds say that what's surprised them most is how much work it is - which is one reason supply isn't keeping up with demand.

"I keep saying to Eric, if only there were two of each of us and more hours in the day," says Alexis Koefoed, with the smallest of laughs.
Source: SFGate.com