Retailers And Producers Happy to Be Friends Of A Feather
SOUTH AFRICA - Have you ever noticed how many adverts there are in the press at the end of the month for discounted chickens? Behind this seemingly innocuous fact lies an interesting story about the often tense relationship between supermarkets and the broiler-chicken industry, published recently by Vunani Securities.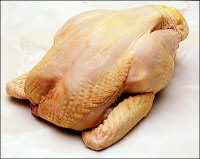 During a much larger exposition about the broiler-chicken industry, the report notes that supermarkets adopt what it describes as "a heavy-handed, dictatorial approach" and says the pricing negotiations are usually heavily weighted in favour of the supermarkets.

Apparently, chicken producers not only have to deliver the product to the retailers' door, but also pay for shelf space, which requires them to have a good grip on logistics and price- point management.

If broiler-chicken producers do not keep a good grip on this dynamic, they end up with a product with a comparatively short shelf life hanging about on the shelves.

So how does this result in more advertising?

Apparently, the costs of that oversupply are borne not by the retailer, but by the broiler industry since most retailers insist that producers pick up unsold product at their own expense. The consequence is discounted chickens at the end of the month and more advertising by producers.
Source: AllAfrica.com