Tesco Price Increase For Poultry And Pork.
UK - Supermarket giant Tesco has announced a significant increase in the price paid to pig and poultry producers, just days after the NFU and NPA held a national launch to raise awareness of impending crisis within the industry.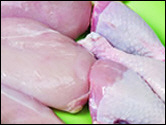 Cash back in farmers pockets
The impact of soaring wheat costs have left livestock farmers facing massive increases in their feed bills – more so for pig and poultry producers who see more than half of their production costs going on feed.

Others to recognise poultry meat price increases include Marks and Spencer who has shown understanding of the situation and is currently working with suppliers to establish a sustainable price.

NFU poultry board chairman Charles Bourns said: "This news comes at a critical time for UK poultry producers. Our findings highlight that feed costs have risen by 25 per cent in the last 12 months – from £140/tonne in August 2006 to £180/tonne this August, and still rising.

"Cost increases like these simply cannot be absorbed by producers which is why we commend Tesco for reacting to these supply chain pressures so swiftly.

"While we can congratulate Tesco, we are disappointed by the failure of some other major retailers and poultry meat customers, to react to these price pressures that are effecting poultry producers world wide, and particularly our NFU members here in the UK.

"We will be expecting other retailers to announce price increases to their suppliers at the earliest opportunity, following Tesco's lead".