The Kloke Family Starts A New Business
GERMANY - New building: Broiler house for 40,000 birds
Marianne and Franz Kloke and their son Christoph invited the public to an Open Day on 20th April 2007 from 9 a.m. to 5 p.m. in Werl-Holtum, Germany. The reason: The Kloke family gets into broiler growing and starts a new branch of agriculture for their farm. Approx. 400 interested colleagues followed the invitation to look at the new house for growing 40,000 broilers in the district of Soest, Germany.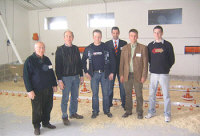 From left to right: Horst Hellwig (Big Dutchman), Franz Kloke, Christoph Kloke, Werner Meckelnborg, Hermann-Gerd Roter (both Big Dutchman), Daniel Kloke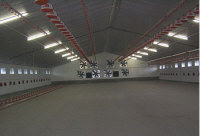 Free space for the birds: After the feeding phase the feeder lines with the FLUXX pans can be winched up automatically.
A question of setting: One single feed pan for different ages in growing

The company Big Dutchman delivered the entire housing equipment from the feeding system via environment control and through to feed supply. The core of the new building of the dimensions 20 x 90 metres is the Big Dutchman FLUXX feed pan. The feed level of this pan can be variably adjusted to the age and size of the birds. Feed losses are avoided while the pans are still easily accessible. These pans are supplied with feed from the proven AUGERMATIC feeding system, comprising four feed lines, a feed hopper and a tube with conveying auger. Eight drinker lines with Top nipples and drip cups ensure a constant water supply. The MC 95 production computer automatically controls the feeding system and the feed scale.

A well-balanced environment pays off

The in-house environment is controlled by a fully automatic negative pressure ventilation system: Outside air is entering the house through fresh air units without draught. Exhaust air is guided out of the house at the front wall by up to 10 wall fans and exhausted by a flange mounted tower. Depending on the outside temperature, the house air is either heated by gas heaters or efficiently cooled down by the well thought-out high-pressure vaporisation system called FOGGING COOLER. The latter also ensures constant air humidity in the house. The result is a constant bird performance independent of the weather conditions.

A well and safely operating ventilation system is a prerequisite for efficient poultry management. This not only comprises the respective intake air and exhaust air units but also a rapid and precise control of the environment – a function, the Big Dutchman climate computer MC 236 fills out perfectly.