50,000 Homes Lit Up With Big Dutchman's Biogas Subsidary
GERMANY - The biggest order in its relatively young company history has been secured by BD Agro Renewables GmbH & Co. KG (BD Agro), the biogas segment of the Big Dutchman Group from Vechta-Calveslage, Germany - in the next two years the company is going to build modern biogas projects at approximately 40 locations all over Germany together with the company biostrom Energiesysteme GmbH & Co. KG, also based in Vechta. The contract volume amounts to 46.1 million euros. The respective contracts were signed this week.
The contract partners are planning to have all plants successfully installed by 2009. The new locations will achieve an output of more than 20 Megawatts (MW eL) and produce enough electrical energy to supply approximately 50,000 households with "green electricity". The additionally produced heat is going to be used locally. The remains of the biogas-process are for the most part going to be used as high-quality fertilizer. According to biostrom, this major project has a total volume of approximately 100 million euros.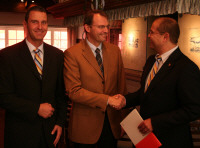 "The demand for energy systems on the basis of renewable raw materials is still as strong as ever" justifies biostrom Managing Director Günter Schlotmann the decision to award the contract to the Big Dutchman subsidiary from Calveslage. "In BD Agro we have found an established, reliable and tried and tested partner for the realisation of these projects." According to Schlotmann, this is not the first venture that has been realized by the two partners.

"We view this contract as confirmation of our core competence and at the same time we are happy to accept the challenge" comments Uwe Heider, Managing Director of BD Agro, on the multi-million euro deal and provides an optimistic view of the future: "This is a very sound basis for future joint activities abroad of BD Agro and biostrom".

The company biostrom Energiesysteme GmbH & Co. KG, a subsidiary of BKN Biokraftstoff Nord AG, specialises in project planning and system management of biogas plants. Together with their operative subsidiaries, the company plans, develops and realises biogas projects all over Germany, but mainly in the new Federal states.

BD Agro covers all services connected to planning, construction and technical support of the systems which use fermented crops and manure to produce heat and electrical energy.
Sponsored Article
---
Our Partners
---