Animal Groups Push to Restrict Confinement
LIVINGSTON — Nineteen million chickens in California produce about five billion eggs a year — making them the nation's fifth-largest supplier of omelets and scrambled eggs.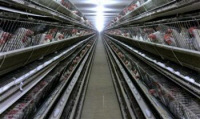 Chickens are seen at a chicken house near Livingston, Calif., Friday, Sept. 28, 2007. How hens live and lay eggs could be altered by the state's voters next year, if animal welfare groups collect enough signatures to put an initiative on the November 2008 ballot.
Now, animal welfare groups hope to change the way the hens live and lay. The groups are collecting signatures for a ballot initiative to give the hens more room to roam.

The measure would force farmers to change current practices that keep most egg-laying hens, veal calves and pregnant pigs in small cages or boxes for most of their lives. It would require that enclosures be big enough for the animals to fully extend their wings or legs, lie down, stand up and turn around.

Animal welfare groups plan this week to start collecting the nearly 434,000 signatures they will need by Feb. 28 to qualify the initiative for the November 2008 ballot.

Farm organizations also are preparing to fight the measure, which they fear will win over a sympathetic, largely urban electorate. A competing initiative would leave egg producers' current practices in place.

Farmers say the animals already are treated well, and less efficient methods would drive up the cost of eggs and other foods by anywhere from a quarter to three times the current cost.

"They want to end animal agriculture as it exists. They don't want you to eat eggs, eat pigs, any of that," said Gary West, a third-generation egg producer whose family-owned operation raises 1.5 million laying hens near Modesto.

The state effort is part of a recent national movement by animal welfare organizations to ask voters to help decide how their food is raised.

Arizona voters last year made that state the first to outlaw veal crates, and the second, along with Florida, to stop confining breeding pigs in so-called gestation crates. Oregon's legislature also enacted a law this year banning gestation crates.

California would be the first to expand living space rights to chickens. About 95 percent of laying hens are raised in cages.

The Humane Society of the United States and Farm Sanctuary, another animal rights group, are zeroing in on a California product valued at $180 million a year.

They want to bar the use of cages like those stacked four high in a climate-controlled Central Valley chicken house here.

Seventy-two rows of the cages stretch nearly the length of two football fields. They hold 152,000 hens that each day send about 140,000 eggs rolling down a series of conveyer belts.

In each of the roughly two-foot-square wire cages are eight fluffy white chickens, kept in crowded but austerely sanitary conditions. These cages slightly exceed the industry standard minimum size, which gives each bird a floor space of about two-thirds a letter-sized sheet of paper.

"Even animals raised for food should be treated humanely," said Wayne Pacelle, the Humane Society's president and chief executive officer. He said the veal and pork industries already are phasing out inhumane practices.

"The egg industry — the factory farming segment of the industry — has not made any pledges and it's arguably one of the most inhumane practices in agriculture," Pacelle said.

While keeping hens in cages does restrict their movement and natural behavior, a well-run operation also is clean and efficient, said Joy Mench, a University of California, Davis, a professor of animal science who helped write the industry guidelines.

Food, water and medicine are easily administered, and waste drops through the cage floor. Caged chickens are also less likely to engage in cannibalism or to break bones — a common problem for hens that divert so much calcium into making eggshells that they develop osteoporosis, said Mench, who has spent her career studying animal welfare.

Mench said the alternatives would be switching to more labor intensive cage-free systems, or allowing more natural behavior by using larger cages with perches, nesting areas and boxes where the hens could take dust baths, Mench said.

The proposed initiative would also ban gestation crates used for more than 20,000 breeding sows in California. The crates let the sows stand up and lay down, but they can't turn around.

Rodeos, fairs, 4-H, research and veterinary programs would be exempt from the ban, which would take effect in 2015 if voters approve it.