Aviagen Italia Debut at Forli
ITALY - Aviagen Italia was proud to make their debut at the 45th Fieravicola Poultry Show which was recently held at the Forli Exhibition Centre in Italy.
Representatives of Aviagen's Executive Team and the Aviagen Italia Team were there to demonstrate Aviagen's on-going commitment to the Italian Poultry Industry.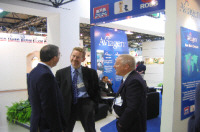 Claudio Ambrogio, General Manager of Aviagen Italia, commented: "It was important for us to be at the show, a key event for the poultry industry in Italy and a perfect opportunity for us to formally introduce Aviagen Italia. We were delighted to meet so many of our existing customers and to hear such good reports about the excellent performance of Ross products. Visitors to our stand were able to meet a number of Aviagen specialists from the sectors of Research & Development, Technical Service, Nutrition and other disciplines and have useful discussions with them."

Randall Ennis, Aviagen Chief Operating Officer, added: "It was a great pleasure for me to personally meet many of our customers who have helped to make the success of the Ross brand in Italy possible. The show was a great opportunity for us to demonstrate our commitment to the Italian market and the response to Aviagen Italia was very positive. We are looking forward to continually working with our customers to ensure that the Ross brand goes from strength to strength."