Big Dutchman Booth Attracted Many Visitors
BRAZIL - At the Latin American Poultry Congress and show end of September 2007 in Porto Alegre, Brazil, the Big Dutchman product range once again attracted a lot of visitors.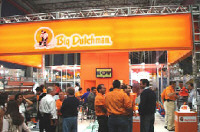 "The attendance of the event proved altogether excellent, and the Big Dutchman booth was very busy all the time", commented Clovis Rayzel, managing director of Big Dutchman Inc., USA, the lively interest of South American poultry producers in the state-of-the-art technology from Big Dutchman.

Some poultry producers used the opportunity for a short visit to the Brazilian Big Dutchman subsidiary located in the nearby town of Caxias do Sul. There they took a tour through the office and informed themselves about modern poultry housing equipment in a discussion with Big Dutchman CEO Bernd Meerpohl, Germany, and staff members from Big Dutchman Brasil and Big Dutchman USA.