Carl's Jr. Takes First Step Away from Factory Farming
US - Fast-food giant Carl's Jr., whose parent company CKE is headquartered in Carpinteria, has agreed to improve the quality of life and death for chickens and pigs.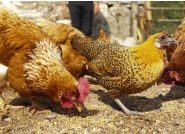 The agreement was announced on September 25 by People for the Ethical Treatment of Animals (PETA), which had been in negotiations with CKE since June. The animal welfare organization gained notoriety in the 1980s for its undercover videotaping of abuse in a range of industries, from circuses to furriers to university research.

After years of unreturned phone calls and emails, the group finally got its foot in the door at CKE's corporate offices by buying $2,000 worth of stock, according to Matt Prescott, PETA's assistant director of factory farming campaigns. This gave it the privilege of speaking at annual shareholder meetings. But according to CKE public relations manager Jeff Mochal, the company did not cave in to PETA's implicit threat to upset other shareholders. Rather, the changes in corporate practices reflect CKE's desire to keep up with the industry at large in responding to consumers' wishes.

In any case, the steps Carl's Jr. is taking are nearly identical to those that Burger King agreed to in March after discussions with PETA. Specifically, CKE promised to immediately begin purchasing 15 percent of its pork from suppliers who do not use "gestation crates," increasing that to 25 percent by July 2008. CKE also agreed that by next July it will purchase two percent of its eggs from poultry farms where hens are not confined to wire cages.

CKE had previously agreed in 2006 to notify poultry suppliers that the company will "consider purchasing" products from those who "actively explore and test" controlled-atmosphere killing, a method that removes oxygen from the air while birds are still in their transfer crates.

This year, CKE ironed out details of that commitment. According to Prescott, the June 2006 shareholders' meeting was already underway when he got word that CKE had agreed to send the notification to suppliers.
Source: SantaBarbaraIndependent