Chicken Plants Get Help
US - Chatham allows them more water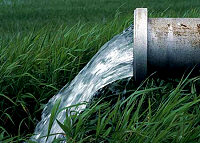 Most of Chatham is under water restrictions because of the drought.
The chicken wings will continue to get made.

This week Chatham County commissioners agreed to let two poultry-processing plants in Siler City take untreated water from the county's water supply in Jordan Lake to keep their plants operating.

Pilgrim's Pride and Townsends chicken plants have been forced to cut their water usage in half by the town of Siler City, which is under strict water restrictions.

Under the agreement with the county, each company can take more than 200,000 gallons a day from Jordan Lake, in the eastern part of the county. The companies will carry the water in trucks back to Siler City.

Most of Chatham is under water restrictions because of the drought.

Siler City, which has its own water system, is requiring residents to reduce their water intake by 50 percent, said Roy Lowder, director of Chatham County's utility department. That means watering lawns, washing cars and filling pools are forbidden. For a first violation, residents face a $500 fine.

The chicken plants, however, can't operate with 50 percent of water. They need water to chill and rinse the birds and clean the machines, according to a Pilgrim's Pride spokesman. Under normal conditions, they each can use as much as 800,000 gallons of Siler City's water a day.

Jordan Lake is 5 feet below normal. The companies are taking untreated water that the county doesn't use, Lowder said.

The county has an allocation of 6 million gallons a day from the lake. But the county's treatment plant can handle only 3 million gallons a day. The county is upgrading its plant to use its full allocation, but that will take several years.
Source: TheNewsAmdObserver