Cost-Driven Retail Prices Could Upset Organic Poultry Potential
UK - Organic egg and poultry meat production offer real potential for farmers seeking new enterprises offering a relatively high return on capital invested.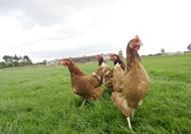 However, while needing to cover high feed costs, there is a danger that both are in danger of pushing retail price levels to the stage where there is resistance from consumers.

That was the common message from egg producer, Giles Henry of Ettrick Valley, near Selkirk and from Kevin Smith of Highland Organics, part of the Grampian Country Food Group. They were both speakers at an SAC organic business conference in Birnam, Perthshire.

Mr Henry said the daily labour input was relatively low at roughly one hour per day per 1,000 birds.

His initial business plan showed a return on capital of about 18-21 per cent meaning that capital would be repaid in about five years.

He said that setting up a 2,000 bird facility cost about £58,000 to which had to be added 2,000 pullets at about £4.50 apiece. Organic feed usage for a 2,000 bird unit worked out at about 7.5 tonnes per month at a cost of about £305 per tonne. Other costs were fencing and a feed bin. Each 2,000 bird unit required a 10 acre field.

The shed was moved with the help of a forestry winch and could be restocked within about five working days after cleaning and disinfections. After carrying two flocks, each area was ploughed and reseeded with grass giving 13 months free of poultry.
Source: FarmersGuardian