Egg Supplies In Crisis
UK - UK egg industry producer and packer representatives have called for an immediate rise in egg prices to avoid a shortage of eggs this Christmas. Organisations representing both cage and free range egg producers have warned that, without an immediate significant increase in egg prices, there is a real threat that farmers will choose to leave their laying houses empty, reports Farming UK.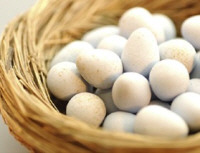 Egg prices must rise.
The cost of feed for laying hens has nearly doubled this year. Wheat prices have risen as a result of the poor harvest across Europe, increased global demand for cereals for biofuels and increased meat consumption in developing countries. World cereal stocks are at record low levels.

With feed accounting for around half the cost of egg production, egg producers need to receive an extra 20p per dozen eggs immediately.

"The dramatic increases in feed costs are crippling farmers and they need a quick return to profitability if the UK egg supply base is to be sustained in time to supply eggs for Christmas and into next year," said Andrew Joret, Chairman of the British Egg Association, which represents UK egg producers.

John Holes of the Stoneleigh Farmers Group of Cage Egg Producers said: "Members are now desperate and many are making decisions not to place chicks for new flocks. This will inevitably cause supply problems for Christmas and beyond. Caged eggs in the rest of Europe are also in very tight supply and producers are facing the same problems with feed costs. If this situation is not turned around quickly there will be shortages of supply as members make decisions not to produce rather than lose money." Tom Vesey, Chairman of the British Free Range Egg Producers Association, commented: "Without price increases there is a danger that farmers who have spent a lifetime in the industry consider not reinvesting in egg farming. They're hesitating about committing to their next flock which means that further down the line we will have a shortage of free range eggs."

Andrew Parker, Chairman of the National Egg Marketing Association Limited, said: "Egg packers are extremely concerned about the situation facing producers from all sectors, and the very real risk of egg shortages this Christmas. They are talking to their retail customers about immediate price rises to ensure continuity of supply across all types of egg production.

"Ironically this crisis comes at a time when retail egg sales are buoyant and we are keen to ensure that consumers can continue to enjoy British eggs - still one of the lowest cost, high quality protein foods available."
Further Reading