Food Company Fined For Pollution
UK - County Tyrone food processors Moy Park have been fined £6,000 for water pollution offences.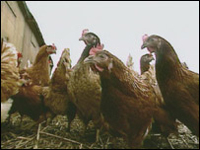 The plant processes chicken products
The company pleaded guilty at Craigavon Magistrates' Court to two charges over the pollution of a stream on the outskirts of Dungannon.

Scum and foam were found escaping from a concrete pipe at the plant into the stream on 5 June, 2006.

The company was warned, but the next day a separate polluting discharge from the plant was discovered.

Samples were taken and later analysis showed that this discharge had caused even more pollution than the previous day's.

Both incidents were discovered by Environment and Heritage Service officers.
Source: BBC.co.uk