Grain Prices Set To Boost Cost Of Eggs
NEW ZEALAND - Egg prices are set to rise on the back of soaring worldwide grain prices.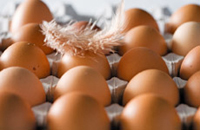 Egg prices are set to rise. Photo / NZ Listener.
The cost of producing a dozen eggs has shot up by 40c - around 20 per cent - because grain prices have risen $100/tonne over the past few weeks.

"Egg farmers exist on slender profit margins and unfortunately cannot continue to insulate consumers from the effects of this massive increase in grain prices any longer," said national marketing body Eggs Incorporated chairman Dennis O'Meara.

Another major egg producer and chairman of Independent Eggs Producers, Ron Turk, said more wheat, corn and other grains were being sought by food manufacturers at the same time land was being diverted to biofuel crops, and droughts were affecting graingrowers in places such as Australia.

Wheat has doubled in value on the world market since April, reaching US$9.1125 ($12.96) a bushel on United States commodity markets.

Source: Nzherald.co.nz