How To Save Cash On Eggs
NEW ZEALAND - It's pretty easy to save on the household grocery bill by keeping chickens in the backyard.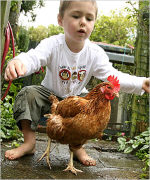 But for most people, introducing a slice of The Good Life may be more about fun and knowing where your eggs come from than cheap eggs.

No one really knows how many backyard poultry farmers there are, but New Zealand backyards are often big enough for urbanites to run small flocks, and most city bylaws let you keep 12 or fewer birds without needing a consent, although there are strict rules about housing them.

Those on rural blocks can keep as many as they like, but commercial pultry laws kick in beyond 100 birds.

The economics of chooks are pretty straightforward, says Sue Clarkee, a Levin lifestyle farmer, semi-retired after 34 years in the commercial poultry industry.

You buy them, you house them, you feed them, you don't pay vets' bills (it's more economically sensible to do away with the sick and most vets wouldn't know what to do with a sick chicken anyway) and you eat the eggs, or the chickens.

Start-up costs can vary hugely. A brand-spanking new chicken house which could house up to 15 birds would cost $995 from Woodworx. Cheaper ones can be had secondhand (including on TradeMe), or you can make one following plans that can be found on the internet.

A dry non-draughty, cat, rat and dog-resistant home for your chooks is essential for keeping them healthy and in prime laying condition, says specialist poultry vet David Marks, although heating is not needed for adult birds.
Source: Stuff