International Egg and Poultry Review
US - By the USDA's Agricultural Marketing Service - This is a weekly report looking at international developments concerning the poultry industry.
Thailand Broiler Consumption
Domestic consumption is expected to rebound 4% after the new general election in early 2008, which has hampered economic growth due to political tension, and in anticipation of higher prices on other proteins. 2007 broiler meat consumption is projected to be slightly higher than 2006 levels, due to the unfavorable economic situation associated with a military coup in late 2006 and political uncertainty, and increasing chicken meat prices.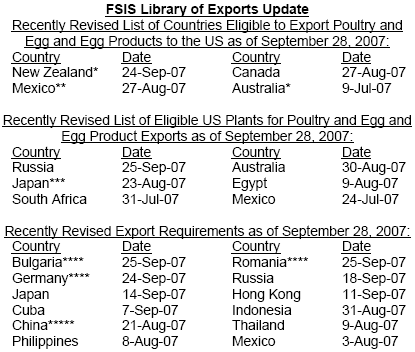 Note: * Ratites only; ** Mexico approved to export only processed poultry products slaughtered under Federal inspection in the US or in a country eligible to export slaughtered poultry to the US; *** People's Republic of China; *** Cold Storage Facilities; **** Products harmonized by the EU; ***** People's Republic of China Source: USDA FSIS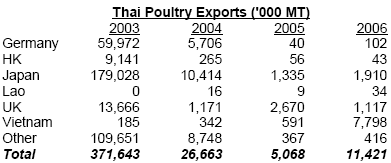 Note: HK = Hong Kong; Lao = Lao Republic; UK = United Kingdom Source: Thai Customs Department
Thailand Broiler Production
In 2008, Thailand's broiler meat production is projected to increase at least 8%, due to improved market conditions and increased productivity. Production estimates for 2007 have been lowered as processors decreased their chick production from 18-19 million birds per week in late 2006 to 14-15 million birds per week at present in response to business losses in 2006 and large stocks in early 2007. These decreased supplies are expected to last through the remainder of 2007.

Feed costs rose 3-4% in the first 7 months of 2007 from the same period a year ago to about 29 baht/kg (39 cents/pound) and are currently at 29.50 baht/kg (about 40 cents/pound). Production costs for 2008 are estimated to be 28-29 baht/kilogram (38-39 cents/pound), which is close to the 2007 level.

Poultry production, which represents half of Thailand's total feed corn consumption, is expected to lower Thai corn exports for MY 2007/2008 from the previous year. Domestic corn production is expected to increase slightly to 3.85 million tons with a higher average yield in MY 2007/2008 from the previous year due to favorable rainfall. Corn acreage and imports are also projected to increase in MY 2007/2008 with domestic prices expected to be higher than the projected flat export prices.

Thailand Broiler Exports
Exports of cooked chicken meat are expected to increase at least 10% in 2008, due to strong demand from the EU and Japan. Chicken meat exports in 2007 are estimated to reach 290,000 MT based on export figures from the first half of 2007 and market reports. From January through June of 2007 the EU (49%) and Japan (40%) continued to be major export markets of cooked Thai chicken meat.

Exports of Thai broiler meat have and are expected to increase due to food safety concerns with one of its biggest competitors, China, and strong demand from the EU under the EU quota administration. Under the agreement, Thailand received 92,610 MT out of the total quota of 264,245 MT for salted poultry meat (EU HS02109939). In-quota imports will be subject to a tariff rate of 15.4%, while out-of-quota imports will be at a rate of 1,300 €/ton. For cooked chicken meat (EU HS16023219) Thailand received 160,033 MT out of the total quota of 250,953 MT. Inquota imports will be subject to an 8% tariff rate, while out-ofquota imports of cooked chicken will be at a rate of 1,024 €/ton.

Thailand benefits from the agreement because the allocated quotas for both salted poultry meat and cooked chicken meat are higher than historical averages of Thai poultry exports to the EU, the EU reduced a bound tariff rate for in-quota cooked chicken meat for Thailand from 10.9% to 8%, and out-of-quota Thai cooked products will be cheaper than out-of-quota Brazilian products. At present, Thailand is working to convince the EU and Japan to accept the compartmentalization practice initiated by the World Animal Health Organization (OIE) to allow Thailand to export raw/uncooked chicken meat to these markets again regardless of AI disease status. A pilot project is in the works for a couple integrated companies with the Japanese in late 2007.

No new trade policies have been developed since March of 2007. However Thailand's Ministry of Agriculture and Cooperatives, Department of Livestock Development (DLD) announced July 26, 2007 the suspension of live poultry and poultry carcasses from Nebraska, due to the detection of low pathogenic avian influenza (LPAI).The ban on California, North Carolina, and Missouri was lifted June 8, 2007, yet the DLD is now requiring all US states animal health certificates to include the statement "I hereby declare that the goods are derived from origin of animals which is free from Avian Influenza and Newcastle diseases."
Source: USDA FAS/various news wires

To view the full report, including tables, please click here