Kennedy, Gansler to speak at Poultry Summit
US - The Waterkeeper Alliance, an international environmental group based in New York, is organizing an "Eastern Shore Poultry Summit" Nov. 1 at the Wicomico Civic Center in Salisbury.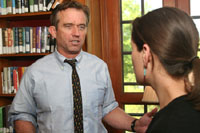 Robert F. Kennedy Jr., chairman of Waterkeeper Alliance
The point of the event is to raise awareness of water pollution that runs off large poultry farms, and try to find solutions, said William J. Gerlach, attorney for the eight-year-old advocacy organization.

Among the speakers at the day-long event will be Kennedy, a co-founder and chairman of the group; Maryland Attorney General Douglas Gansler; and Bill Satterfield, director of the Delmarva Poultry Institute, a farming trade organization. "We'd like to start a dialogue among everybody – so we invited the Delmarva Poultry Institute, not just environmental activists," said Gerlach. "Hopefully there will be good discusion and we will build from it."

Gerlach said he hopes to encourage Maryland to issue factory-style water pollution control permits to large poultry farms, increase the enforcement of water pollution laws, and to allow public access to the nutrient management plans that farmers are supposed to follow.

The Sun reported on Oct. 14 that the poultry industry on Maryland's Eastern Shore produces about a billion pounds of manure a year, and is a significant source of pollution in the Chesapeake Bay. But Maryland has been slower than other states, including neighboring Pennsylvania, in requiring factory-style pollution control permits for large poultry businesses. The state is now considering these permits, along with inspections by the state's environmental enforcement agency and fines of up to $32,500 for allowing manure into streams. But farmers have complained that chicken houses don't pollute like factories, and that family farms shouldn't be burdened with excessive regulation.

Source: BaltimoreSun.com