Poultry Companies Staring At Market Obstacles
US - Springdale-based Tyson Foods Inc. and other major poultry producers face three difficult hurdles in the coming months with higher feed costs, questionable export markets and a rising supply due to increased production.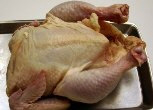 Industries prepare for heat.
According to industry analysts this triple threat will likely take a toll on profitability for poultry producers who have enjoyed profits during the last year on historically high breast and leg prices.

The deteriorating market conditions worsened last week when Russia, one of the top export markets for U.S. chicken, banned imports from 17 chicken processing plants. The banned facilities include three Tyson Foods and one of Siloam Springs-based Simmons Foods Inc.

"We're still gauging what, if any, impact Russia's decision will have on our poultry operations," said Tyson Foods' spokesman Gary Mickelson.

He said one of the company's poultry plants included in the latest action has not been shipping products to Russia, so it is unclear why they were banned.

The two Tyson Foods plants directly affected by the Russian ban include one in Clarksville and another in Carthage, Miss.

Source: TimesRecord