Salmonella - Tougher Than You Think
SHROPSHIRE - As the new EU salmonella controls begin to bite, a specialist in this field highlighted the toughness and sheer adaptability of the salmonella bacteria, reports Farming UK.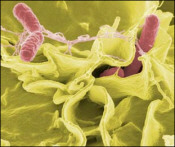 Red salmonella cells on the attack
Addressing a gathering of major egg producers in Shropshire, Mr Klaus Torborg, director of vaccine sales for Lohmann Animal Health, praised the UK industry's record of control but warned producers to remain on their guard.

"Salmonella bugs are very tough," he said. As an example, he cited American research which showed that, when sent up into space, salmonella bacteria actually become more dangerous. They could sense changes in their environment and altered their genetic machinery so that they could survive.

It was found that the bacteria were able to modify the way they expressed 167 genes. While floating around in the Atlantis orbiter flight they changed their response to the microgravity conditions. Researchers at the Center for Infectious Diseases and Vaccinology at Arizona State University found that afterwards these bacteria were three times as likely to kill infected mice compared with normal bacteria.

This research indicated just how tough, dangerous and adaptable salmonella bacteria are, pointed out Mr Torborg. Back on the farm the emphasis on control was switching from the bird to the environment. He suggested that, despite the UK having the lowest level of salmonella persistence among the major egg-producing countries, producers would have to pay even more attention to rodent control, cleaning disinfection and general bio-security as well as maintaining an efficient vaccination programme.

With the danger of zoonosis ever present, veterinary surgeon Dr Michael Iburg, Lohmann Animal Health's head of Technical Marketing, also emphasised the importance of the role played by the primary producer as the first link in adequate salmonella control right through the food chain.

"Vaccination via the drinking water is time-saving, cost-saving and effective for large populations of chickens on poultry farms," he said.
Further Reading