Teaching The New Generation Of Poultry Producers
QUEENSLAND - The wide range of careers in the poultry industry was revealed to students competing in the recent 2007 High Schools' Poultry Industry Education competition.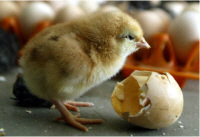 Students from 20 agricultural schools across the state were given information on careers and other facts about the poultry industry as they took part in this year's competition, which concluded with an 'Open Day' at the department's Poultry Research and Development Centre at Alexandra Hills (Brisbane).

This year's winners were students from the Caboolture State High School whose project found eggs stored under cold temperatures of 4°C kept fresher than those kept in shelf storage.

They found there was a significant decrease in weight in shelf stored eggs compared to that of eggs in cold storage

The project, now in its eighth year, is run jointly by the Department of Primary Industries and Fisheries, the World's Poultry Science Association (WSPA) Queensland sub-branch and the poultry industry.

DPI&F project coordinator Paul Kent said the project provided opportunities to encourage students to research the science behind poultry farming and the opportunities available as a career.

"By participating in the competition students have not only had the chance to win prize money, but have also learned a great deal about the poultry industry in general," Mr Kent said.

"The project was created to combat misinformation such as chickens are fed Hormones and to make the general public aware that chicken meat and eggs are two of Australias' safest food products."

Since the project began in 2000, approximately 80 per cent of Queensland's agricultural schools have participated, with project outcomes impacting on a further 15,000 Queenslanders. The project is expected to go nationwide in 2008.

School groups each submitted a poultry project report, and created a poster display which is assessed by industry to determine the placings.