Tyson Lifts Per-Pound Pay For Poultry
US - Tyson Foods Inc. has begun to raise per-pound payments for a group of contract chicken farmers who supply processing plants in Green Forest and Berryville, company officials said.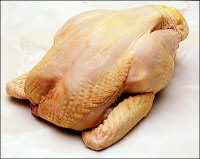 Growers in that area confirmed that Tyson began distributing new contracts in late August, a process that continues as flocks are finished, sold and replaced. However, they are concerned that Tyson's push for larger birds will negate any gains in income made through the per-pound increases.

In an e-mail Thursday, Tyson officials said the "significant" increase in per-pound contract payments had been under consideration months prior to August, when local media picked up the story about the farmers ' complaints. The new agreement has no bearing on other groups of poultry growers across the country, which are all analyzed separately.

"After evaluating our business model for this production area, we have decided to make changes in bird weights and grower pay that we believe will be mutually beneficial to the grower and the company," spokesman Gary Mickelson wrote in an e-mail.

The new deal increases payments by four-tenths of a cent per pound, according to a contract obtained by the Arkansas Democrat-Gazette.

The new base pay — excluding any adjustments for performance — is 5. 15 cents per pound. That's up from 4. 75 cents per pound that growers received before the increase in pay, about an 8. 4 percent increase in per-pound payments.
Source: nwanews