U.N. Warns Confinement Production Lead To Diseases
EU — United Nation agriculture officials warned Monday that the risk of diseases being transferred from animals to humans may increase as a result of livestock practices that mean animals are too highly concentrated in confined spaces.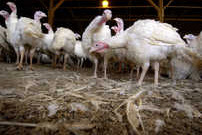 The practices are the result of increasing demand for meat and poultry, which has accelerated industrial production, the Rome-based Food and Agriculture Organization said.

"There is no doubt that the world has to depend upon some of the technologies of intensive animal food production systems," said FAO livestock policy expert Joachim Otte. "But excessive concentration of animals in large-scale industrial production units should be avoided and adequate investments should be made in heightened biosecurity and improved disease monitoring to safeguard public health," he said in a statement.

Globally, pig and poultry production are the fastest-growing sectors, with annual production growth rates up to 4 percent over the past decade. As a result, most chickens and turkeys in industrialized countries are now raised in facilities with 15,000 to 50,000 birds. Meanwhile, industrial pig and poultry production relies on a significant movement of live animals, which raises the risk of transferring diseases.
Source: LancasterFarming