A New Day Brings New Restrictions
UK - Further restrictions are being put in place in a wider area surrounding the infected premises near Diss as a precautionary measure.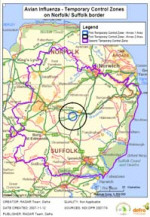 In consultation with ornithologists and other experts, a wider Restricted Zone has been established in addition to the controls put in place yesterday; ie the 3 km Protection Zone and 10 km Surveillance Zone around the Infected Premises. The new Restricted Zone covers much of Norfolk and the whole of Suffolk.

Tests are now being carried out to determine what strain of the H5 virus was found and results are expected later today (Tuesday).

This is still an early stage in the outbreak. The new Restricted Zone requires the isolation of poultry from wild birds.

Movements within this zone can take place, but movements are not permitted out of the new zone at present.

A statement on the Defra website said: "We expect to make available general licences for low risk movements out of the zone shortly. No movements of poultry are permitted at present in the 3km and 10km zones around the Infected Premises.

"These measures are a precaution while the results of further laboratory tests and investigations into the outbreak are awaited."

In addition, the national general licence permitting bird gatherings in England has been revoked, and bird shows and pigeon racing will not be permitted for the time being.

Movements from the new Zone can only take place under licence. These will be made available on the Defra website and flagged up on NFU Online in due course.

Last night shadow environment secretary Peter Ainsworth said the outbreak was "another nightmare" for the farming community.

He added: "Farmers have endured so much and the last thing they need is an outbreak of bird flu in the run-up to Christmas."

Charles Bourns, chairman of the NFU's poultry board, said: "We've proved from the last two years that bird flu can be held on the one farm so hopefully that can be done this time."