An Eggs-am Head Starter
AUSTRALIA - Eggs contain nutrients that have been shown to improve concentration and memory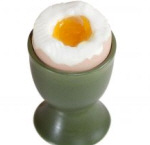 Are your kids struggling to get through their end-of-year exam period? Sending them to study on an egg may be the best helping-hand you can give.

Recent studies have shown that dietary omega-3 can improve a normal student's concentration and attention levels. According to the Australian Egg Corporation Limited, a serve of eggs contains 40mg of long chain omega-3 fatty acids, which represents 32-73% of the adequate intake (AI) for children aged 4-18 years, making eggs an excellent memory food and the perfect way to start their day.

Finding dietary sources of omega-3 is increasingly important for children of all ages after research by The Omega–3 Centre revealed that Australian children should be consuming five times more omega-3 in their diet.

Along with helping meet your child's daily omega-3 requirements, an egg breakfast will provide the essential vitamins and nutrients to improve their performance, whatever the challenge.
Protein will keep them fuller for longer, aiding memory and concentration.
Iron will aid their concentration in class and increase their energy levels.
Folate and vitamin A will help them maintain a strong immune system and fend off unwanted germs.
Ms Sharon Natoli, Accredited Practising Dietitian and Founding Director of Food & Nutrition Australia, says "including eggs in a child's diet is a simple and delicious way to help meet their daily nutritional needs during the important stages of development and growth."