Aviagen Czech and Slovak Roadshows
CZECH REPUBLIC - Aviagen customers from the Czech Republic and Slovakia recently had the opportunity to attend roadshows organised specifically to support broiler growers in the region.
Two meetings in the Czech Republic and one meeting in Slovakia attracted over 120 attendees, made up primarily from broiler growers and also some representatives from feed companies and premix producers. The roadshows were organised by Aviagen's customer service team for the region to highlight the competitive advantage of the Ross broiler and its economic benefits in the light of increasing feed prices. They also provided an excellent forum to launch the new Ross Nutrition Specifications and Ross Broiler Performance Objectives.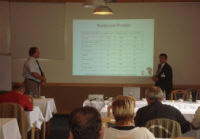 One of the attendees and a long-established Aviagen customer, Xavergen's Technical Service Manager, Petr Smid, commented: "The three meetings have provided us and our customers with some valuable knowledge that we can take away and apply to our business.

We were particularly interested in the Performance Objectives, as they provide us with targets to achieve maximum returns through excellent product performance using Ross stock."

Aviagen's Vlada Zima , Commercial and Technical Manager for the Czech Republic and Slovakia, added: "It is important for the Aviagen technical team to not only support our customers on their premises, but to provide a platform for them to share best practise with other contacts in the poultry industry.

It demonstrates that Aviagen are keen to supply an added value service and we look forward to helping our customers implement the knowledge and advice that we have passed on during the meetings."