Aviagen Holds Successful Seminar in Brazil
BRAZIL - Aviagen, the world's leading poultry breeding company, recently held a successful seminar in Brazil to discuss trends in the poultry industry and prospective issues.
The first international seminar, titled "Perspectives of the Poultry Industry for 2008" was held in Indaiatuba, state of Sao Paulo, and brought together more than 100 international speakers and delegates from various poultry companies in the region. Sponsors of the event included Bradesco Bank, Bayer, Fort Dodge, Polysell and Schering-Plough.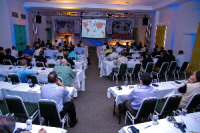 Aviagen professionals from around the world came together to give global updates on various business issues including product development, while Francisco Penteado and Alexandre Tamizari, from the Bradesco Bank in Brazil spoke about economic issues and credit lines in the poultry industry.

In addition, panel discussions were held relating to key issues facing the market today and in the near future. The first panel discussed the impacts of bioenergy on the poultry industry. Key speakers included Dr. Bryan Fancher, VP of global technical services for Aviagen to represent the US market and Andre Pessoa, director of Agroconsult in Brazil to represent the Brazilian market. This panel was moderated by Erico Pozzer, president of the Sao Paulo Poultry Association.

The second panel discussed trends in the market and the top poultry industry companies in 2008. Dr. Paul Aho represented the US market and spoke about projections for exports in that region, mainly to Russia and China. Dr. Gordon Butland spoke about the Asian market and Clovis Puperi, executive director of the Brazilian Poultry Association represented the Brazilian market. Ivan Pupo Lauandos, general director for Aviagen do Brasil moderated this panel.

"This seminar was a great opportunity to show the real commitment of Aviagen to the Brazilian market," commented Lauandos. "It was also a wonderful chance to discuss the changes that are expected for the Brazilian poultry industry in the near future."

Aviagen remains committed to providing technical support and management advice to distributors and customers locally through regional technical managers and with educational workshops and seminars.