Aviagen Participates in Grand Opening of New GPS Farm in Malaysia
MALAYSIA - Aviagen, the world's leading poultry breeding company, recently celebrated the grand opening of the first new grandparent farm in Malaysia in 20 years.
The Bukit Perak GPS Farm Snd., Bhd., will receive Arbor Acres grandparent stock from Aviagen before the end of the year and will supply day-old parent stock to the CAB Cakaran, Sdn., Bhd., for its growing integrated chicken meat business.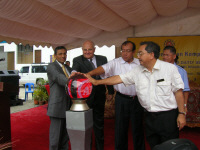 Picture attached - David Hutchinson, Aviagen VP in Asia (second from left) participates in grand opening ceremonies.
The opening ceremony, held September 30 at the first of the new grandparent farms, was presided over by the Honorable Chief Minister of Kedah, Y.A.B. Dato' Seri Mahdzir bin Khalid, and included the State Executive Councilor for Agriculture, the CEO of the Kedah State Development Corporation, and the District Officer of Pendang. Also in attendance were both the Chairman and Managing Director of CAB and other senior managers of the corporation. David Hutchinson, Aviagen VP in Asia, spoke at the ceremony.

"This is the first single age broiler breeder grandparent farm built in Malaysia," said Hutchinson. "I am personally very proud they have chosen Arbor Acres to be part of this new initiative."

With the increase in demand for quality chicken meat and the rise in import challenges due to restrictions and disease threats, it made sense for the region to build a farm to provide a third strain of breeding stock to create a more stable platform for the supply of chicken. The Bukit Perak GPS Farm consists of four new single age farms, located on an 11,000 hectare rubber estate. The vast estate allows for the farms to be isolated from one another by at least one kilometer. In addition, the new single-stage hatchery is further isolated on a completely separate site in a nearby town. These provisions along with strict biosecurity protocols help to ensure the health of each and every flock.