Award Recognises Lifetime Achievements
UK - Peter Dean, described as playing a central role in reshaping egg packing and retailing through more than two decades, is the 25th recipient of the prestigious ISABROWN award for services to the poultry industry.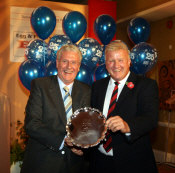 Peter Dean (left) receiving the silver salver for the ISABROWN award from Neil Leeming, managing director of Tom Barron
Mr Dean, chairman of Noble Foods, the UK's leading supplier of eggs and egg products, received the award from Neil Leeming, managing director of Tom Barron, at the anniversary ISABROWN dinner on the eve of the Egg & Poultry Industry Conference at Meriden, near Coventry.

In announcing the winner one of his colleagues at Noble Foods, David Tromans, said that during a lifetime in the industry Mr Dean had always recognised the value of 'customer focus' as reflected in his work with the supermarkets in responding to the needs of the consumer.

When he bought the Deans business back from Dalgety it had achieved the best customer profile in the UK, said Mr Tromans, and he had continued to develop the business through acquisition and organic growth with strong emphasis on marketing and on support for the 'Lion' brand.

Mr Dean said he would not have been able to achieve this without the tremendous support from staff, producers and customers through many years. He was particularly pleased to have achieved success in an unsubsidised sector of agriculture, but, he added, frustrated with government interference in a free European market.

Past winners were invited and 12 were able to attend including the first recipient Stanley Wattam who gained the award in 1983 for a Suffolk-based business then sexing almost two million chicks a week.