Critics Decry U.S. Food Safety System
US - Peanut butter is regulated by the Food and Drug Administration. But chicken pot pies are the U.S. Department of Agriculture's responsibility. Frozen cheese pizzas — FDA. But if there's pepperoni on them, USDA has jurisdiction, too.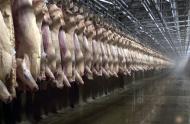 This file photo from June 7, 2000 shows beef sides hanging in a chilling room at the Excel slaughterhouse in Schuyler, Neb., Wednesday June 7, 2000. In the summer months, as many as one in every two cows processed at the Excel plant carry the deadly E. Coli 0157:H7 bacteria, but before the plant's meat reaches consumers, the cattle and their carcasses are put through a state-of-the-art system of scrubbing, washes, rinses and steam-pasteurization designed to remove most, if not all, of the bacteria.(AP Photo/Nati Harnik)
Critics of the nation's food safety system say that it is too fragmented and marked by overlapping authority, and they say that may help explain why dangerous foods keep slipping through and why contamination scares are handled in sometimes inconsistent ways.

"One of the underlying problems is the bifurcation of the regulatory system," said Caroline Smith DeWaal, director of the Center for Science in the Public Interest's food safety division.

Critics also complain that the food safety system suffers from a shortage of money and inspectors and inadequate enforcement powers.

In the months ahead, Congress will consider several proposals to reform the system, including creation of a single food safety agency, an idea both the FDA and USDA oppose. A top FDA official said the agencies cooperate well now.

"We do not believe a single food safety agency would give us the efficiencies you can have from having two agencies responsible for 99 percent of the food that we eat in this country, both domestic and imported," said Richard Raymond, USDA undersecretary for food safety.

The government structure that protects the food supply took shape piecemeal over the past 101 years. The results could be seen in the way two recalls were handled over the past year.

Source: APAssociatedPress