Declaration Of Second Temporary Control Zone
UK - The Chief Veterinary Officer has advised the Secretary of State that he suspects that highly pathogenic avian influenza virus of the H5 subtype is present in poultry in Great Britain and the neuraminidase virus type is N1.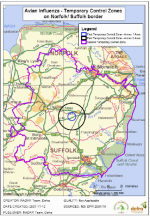 Map showing the boundary of the second temporary control zone
This Declaration is made under article 13 of the Avian Influenza and Influenza of Avian Origin in Mammals (England) (No. 2) Order 2006 ("The Order").

The Secretary of State declares the areas described in Annex 1 to this Declaration to be the second Temporary Control Zone in which the measures set out in Annex 2 to this Declaration apply. The first Temporary Control Zone was made by the Declaration of a Temporary Control Zone at 17:25 on 12 November 2007 ("the TCZ Declaration").

These measures apply from 13:15 on 13 November 2007 until this Declaration is revoked or amended by further declaration.

The Declaration of a second Temporary Control Zone declared at 21:00 on 12 November 2007 is revoked and replaced by this Declaration.