Efrat Broiler Holds Technical Seminar In Cyprus.
CYPRUS - The event provided Efrat with an opportunity to thank their customers with a trip away from the day-to-day routine of their business. The delegates enjoyed a variety of presentations on a range of technical subjects, including the new Ross Performance Objectives, nutrition, genetics, veterinary, hatchability and incubation updates. A lively question and answer forum rounded up this two day event.
All those who attended enjoyed the meeting and gained some valuable knowledge.

Boaz Shkedi, Efrat General Manager said: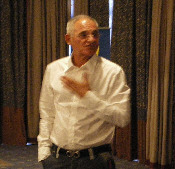 David Kliot, Efrat Managing Director
"I would like to thank the Aviagen team for taking the time to talk to us about the latest developments with the Ross brand and providing a very interesting and enjoyable seminar. All those who attended found it a rewarding and valuable experience and the meeting provided information that will help us to further improve our results.

We appreciate all the effort that went into organising the seminar and especially the friendliness and goodwill which made it into such an enjoyable and memorable occasion."

Lindsay Broadbent, Technical Service Manager, added: "We are delighted that the Efrat Seminar was such a success. We enjoyed meeting Efrat's team members and customers and hope that the information provided will further enhance the performance of the Ross product in the market."