EU Boosts Anti-Bird Flu Measures In Britain
EU - European Union nations voted Tuesday to boost measures to protect against bird flu in Britain, after two outbreaks of the potentially lethal disease were discovered there.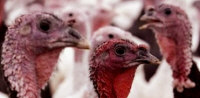 EU Gets Tough On UK
"Member states voted in favour of a decision reinforcing the control measures in the UK following two confirmed outbreaks of avian influenza on the border of Norfolk and Suffolk in the past weeks," the European Commission said.

The decision meant that protection zones in the affected areas would be "slightly expanded". The measures were confirmed by the EU's standing committee on the food chain and animal health.

On Monday, Britain confirmed a second outbreak of the H5N1 strain of avian influenza. It was found in turkeys on premises near a first infected farm, on the border between Norfolk and Suffolk in eastern England.

Last Tuesday authorities ordered the slaughter of more than 6,000 poultry at a site near Diss in Norfolk.

The cull was subsequently widened to four neighbouring premises, and in all nearly 29,000 birds were slaughtered.

Suffolk, a large poultry producing area, was hit by an outbreak of H5N1 at a turkey farm in February.

Some 159,000 turkeys were killed as a precaution. An official report said it was most likely the virus reached the flock via imported turkey meat from Hungary.

The H5N1 strain first emerged in Asia in 2003, and has caused some 205 deaths in humans, with Indonesia and Vietnam among the worst hit countries, according to World Health Organisation figures.

Scientists fear that H5N1 will eventually mutate into a form that is much more easily transmissible between humans, triggering a global pandemic.

The original source is thought to have been wild migratory birds.