EU Expansion On The Menu In Hungary
HUNGARY - Aviagen Kft, part of the Aviagen Group, recently held its annual Central European Customer Seminar at Lake Balaton, Hungary. Nearly 200 delegates from across the region attended the two-day event and enjoyed a varied and interesting business and social programme.
The purpose of the Seminar was to discuss the global changes in the poultry industry and to bring together the major Central European customers to present the current market situation and explore further commercial opportunities within the region.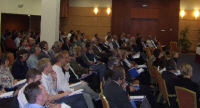 Presentations were given by Aviagen personnel as well as guest speakers from various countries and industry sectors. Zoltán Haga, Purchasing Manager - Fresh Meat, Tesco (Hungary), and David Gibson, General Manager, Moy Park Ltd, UK, looked at the poultry supply chain in Europe from a retailer's and producer's perspective. Dr Laszlo Ozsvari from the Hungarian Ministry of Agriculture, discussed the impact of EU membership on health management, food safety and exports. Franz Knittelfelder from Lugitsch Feedmill in Austria looked at recent developments in feed prices 2007 - 2008.

David Gibson commented:

"Central Europe is a region where the industry is expanding rapidly. As I travelled from Vienna to Hungary, I became increasingly aware of the huge amount of development in infrastructure currently underway. There is an optimism throughout Central Europe and an enthusiastic drive to make the most of any opportunities.

This was obvious amongst the Aviagen team. There was a real 'can do' attitude and very good team spirit amongst the Aviagen Kft team. This translated into a very well organised seminar with valuable country updates and a large group of like-minded people coming together to talk about progress for the industry."

Nick Spenceley, General Manager, Aviagen Kft, said:

"These seminars are vital to our business because they allow us to bring together the most influential members of the poultry industry in the region. Our Industry continuously faces new challenges and it is a mark of how succesful we are as an Industry that we are able to meet these challenges while continuing to grow. It is a real melting pot of talent with ideas, problems and solutions all shared between delegates.

It is essential to listen to our customers and understand their concerns and business needs to enable us to provide them with the expert advice they require. For our partners and customers who attend they get the chance to discuss the individual markets in each country and develop mutually beneficial contacts with other Aviagen customers."

Tyark Osterndorff, Business Development Manager, Aviagen said:

"The poultry industry in the region has undergone big challenges and changes in recent years. The Seminar was an ideal platform for representatives from old and new members of the European Union to exchange their knowledge and learn from each others' experiences."